PRODUCTS
Freezers
Mini Bars
Cold Rooms
Water Coolers
Professional Products
Ice Machines and Flakers
Bar Refrigeration Products
Refrigerated Display Cabinets
Medical Refrigeration Products
LIFE STYLE RANGE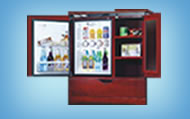 About us
We bring complete solution to the Kitchen  Equipment needs of Hotels, Restaurants, Industrial Canteens, Hospitals, Home/Residences, Clubs etc. from the world renowned manufacturers of these products. The company, manned and managed by a team of qualified and experienced professionals associated with the sale and service of these equipment for more than four decades, ensures strong support throughout the country.

Besides  representing BLUE STAR LIMITED & VOLTAS LIMITED  for their  range of  COOLING & REFRIGERATION PRODUCTS ,  WE are the Authorized Distributors of BHARAT PETROLEUM CORPORATION LIMITED  for DOMESTIC & COMMERCIAL LPG. We also represent CRPL for their following range - Cimbali Coffee machines, MANITOWOC ice cube & flake makers, VESTFROST freezers & wine chillers & CELFROST range of Refrigeration Products.

At UNITED , we have a shared value that the Indian customer deserves the best. We utilize our collective experience and expertise, to bring to India, the world's finest range of cooling and food service products.....
Copyright © 2008 United Agencies. All Rights Reserved
Design & Developed by
V2web